About us
We are an AUTOMATED FACTORY located in Ejea de los Caballeros (Zaragoza). Prepared to provide service at a European level with superior quality and a very high technological factor, the main advantage of which is to reduce delivery times thanks to the technology developed in our processes, together with a highly qualified human team.
LASER CUTTING AND FOLDING
OUR HISTORY
Mecanus Evolution
Mecanus is a company born in Ejea de los Caballeros in 2006, under the name of Mecanizados Ejea, providing service in the vicinity with a family management and oriented to the needs of the client. It develops growth in all lines of work, becoming recognized for supporting all manufacturing lines in the market: industrial, railway, aeronautical, naval, agricultural, lifting, furniture and defense.
We have a team of more than 60 highly qualified people who develop the highest quality of service requested in the market.
We have a factory with a high technological index, the greatest advances in the market to meet all expectations in manufacturing and on all materials on the market. To create service and manufacturing versatility, we combine LASER CUTTING, MACHINING and CUTTING processes, reaching a finished product with welding and treatments.
Sectors
We work in all market sectors due to our versatility:
Industrial, railway, automotive, industrial, aeronautical, naval, agricultural, elevation, furniture and defense.
Processes
We carry out all kinds of transformation services:
LASER CUT
MACHINING
FINISHED PRODUCT
We are specialists in tools and prototypes.
We act on all kinds of materials.
We transform the client's own raw material.
HUMAN TEAM
We have the most qualified professionals in the market for whom excellence is the daily challenge.
Manufacturing: Professionals in each type of manufacturing
Technical Department
Commercial department
Purchasing department
R&D Department
Logistics Department
Orders Department
Production Departament
Quality Department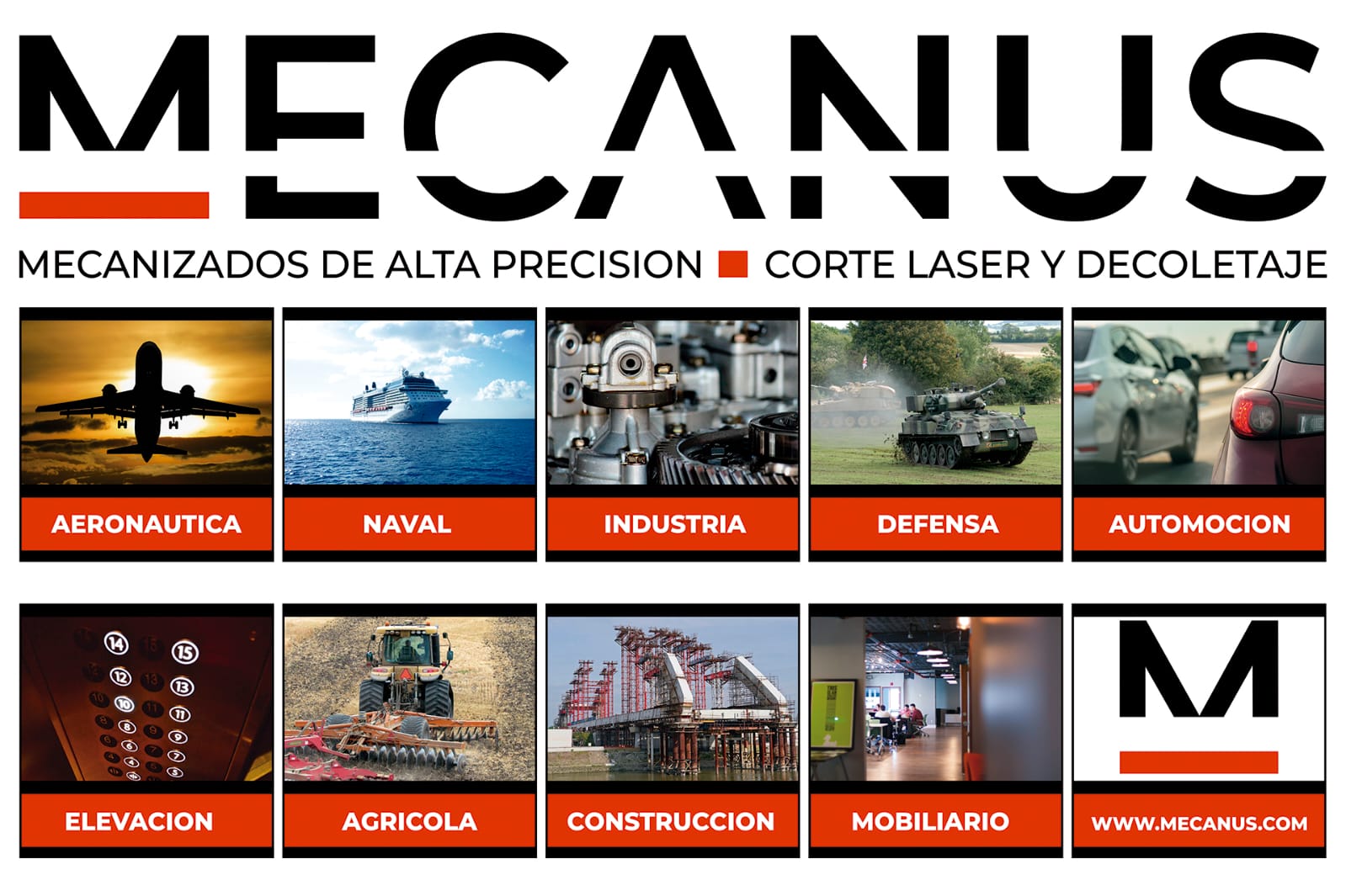 At Mecanus we work with all the means within our reach to be able to provide a global service that optimizes our industrial processes and maximizes the benefits of our clients.
We work with the latest advances in software that allow us to offer the best solution in the shortest possible time.
R&D DEPARTMENT
Do you dare to pose a challenge?
TRACEABILITY
Fulfilling all the requirements to be able to collaborate.
EXPRESS DELIVERY SERVICE
Service in 24 or 48 hours.
TOOL MANUFACTURING
We carry out from design to commissioning.
COST OPTIMIZATION
In medium and long series.
PROTOTYPES
Experts in development for the adaptations of each client.